One Packet. One Dose. One Time.
Solosec® (secnidazole) is easy to take.1,2
Simply open the packet and sprinkle the entire contents of the packet onto applesauce, yogurt, or pudding. Stir and mix.1
The small, smooth granules won't dissolve. Consume all of the mixture within 30 minutes, without chewing or crunching the granules.1
You can drink a glass of water after taking Solosec to help with swallowing. Do not try to dissolve the medicine in water or any other liquid.1

Watch the video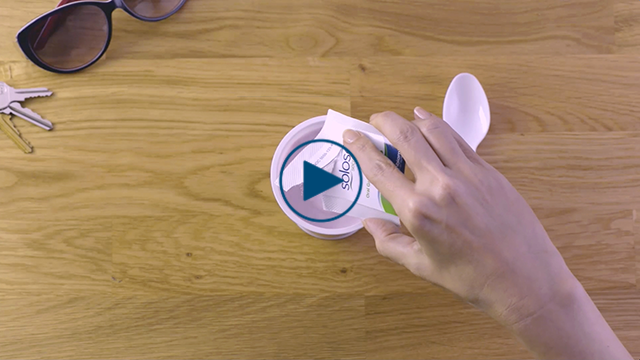 FAQs
Who should not take Solosec?

Is Solosec a single-dose oral treatment option for BV?

How often does the patient take Solosec?

Do patients need to take Solosec with meals or during a particular time of day?

Can Solosec be mixed into liquids?

Do patients need to avoid alcohol or certain foods while being treated with Solosec?

Do patients need to use back-up birth control while on Solosec?

Are there any side effects?

Can pregnant or breastfeeding patients take Solosec?
REFERENCES:
SOLOSEC® [prescribing information]. Baltimore, MD: Lupin Pharmaceuticals, Inc; 2017.

Data on File, Physician Research. Advantage Healthcare, Inc. Prepared December 23, 2014.