Same SOLOSEC single-dose regimen is indicated for women with BV and adults with trichomoniasis1
Here's how to take SOLOSEC1:

1)
Open the packet and sprinkle the entire contents of the packet onto applesauce, yogurt or pudding


3)
Consume all of the mixture within 30 minutes
DO NOT CHEW OR CRUNCH THE GRANULES
Patients can drink a glass of water after taking SOLOSEC to help with swallowing, if needed. Do not try to dissolve the medication in water or any other liquid.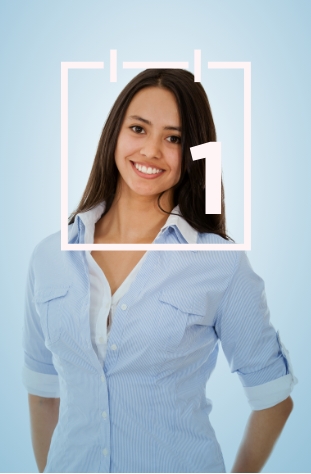 SOLOSEC is the only antibiotic therapy that delivers a complete course of treatment for BV and trichomoniasis in just one oral dose1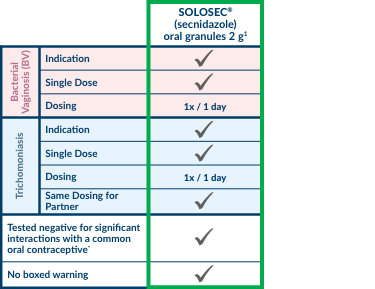 * Combination oral contraceptive ethinyl estradiol plus norethindrone
The comparative efficacy of SOLOSEC with the listed treatments has not been adequately studied. This is not a complete list of attributes for each product that may be important to a clinical decision. For the most updated information, consult the PI for each product.
With SOLOSEC, patients may benefit from a single oral dose treatment regimen1

SOLOSEC has no pregnancy restrictions1
Available data on pregnancy are limited to animal studies.
Metronidazole and tinidazole are contraindicated in the first trimester of pregnancy2,3

SOLOSEC was tested not to interfere with a common combination oral contraceptive1
Did not interfere with combination ethinyl estradiol and norethindrone

SOLOSEC does not interfere with condoms or diaphragms1

SOLOSEC can be taken any time of day1

Alcohol consumption can resume two days after one-day treatment with SOLOSEC1
The same single-dose regimen of SOLOSEC can be used in women co-infected with BV and trichomoniasis1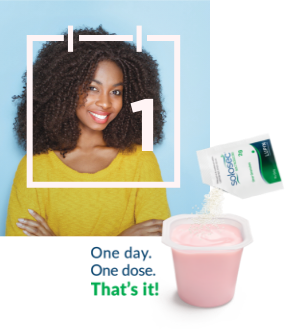 SOLOSEC is the only single dose oral antibiotic that provides a complete course of therapy to treat both trichomoniasis and BV.1
SOLOSEC is FDA-approved to treat partners of trichomoniasis patients1

With SOLOSEC, sex partner(s) of patients with trichomoniasis can complete treatment with the same single dose each, at the same time.1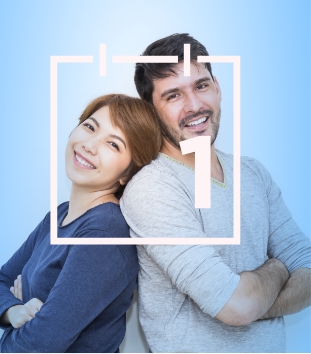 References:
1. SOLOSEC [prescribing information]. Baltimore, MD: Lupin Pharmaceuticals, Inc; 2022. 2. Flagyl [prescribing information]. New York, NY: Pfizer; 2021. 3. Tinidazole Tablets [prescribing information]. Buffalo Grove, IL: G.D. PACK Pharmaceuticals, LLC; 2018. 4. Clindesse [prescribing information]. Allegan, MI: Pharmacia & Upjohn Company, LLC; 2014. 5. Metrogel [prescribing information]. Sellersville, PA. Teva Pharmaceuticals, USA; 2005. 6. Nuvessa [prescribing information. Irvine, CA: Allergan Pharmaceuticals International, Ltd.; 2018.
Indication
SOLOSEC® (secnidazole) 2 g oral granules is an antimicrobial agent indicated for the treatment of bacterial vaginosis in female patients 12 years of age and older and trichomoniasis in patients 12 years of age and older. Since trichomoniasis is a sexually transmitted disease, treat sexual partners of infected patients with the same dose and at the same time to prevent reinfection.
Dosage and Administration
SOLOSEC is a single-dose therapy for oral use. The entire contents of SOLOSEC packet should be sprinkled onto applesauce, yogurt or pudding and consumed once within 30 minutes without chewing or crunching the granules. SOLOSEC is not intended to be dissolved in any liquid. Avoid consumption of alcoholic beverages and preparations containing ethanol or propylene glycol during treatment with SOLOSEC and for at least 2 days after completing therapy.
Important Safety Information
SOLOSEC is contraindicated in patients with a history of hypersensitivity to secnidazole or other nitroimidazole derivatives and in patients with Cockayne syndrome.

Vulvovaginal candidiasis may develop with SOLOSEC and require treatment with an antifungal agent.

Potential risk of carcinogenicity is unknown and has not been studied in patients. Carcinogenicity has been seen in rodents chronically treated with nitroimidazole derivatives, which are structurally related to secnidazole. Chronic use should be avoided.

Breastfeeding is not recommended. Patients should discontinue breastfeeding for 96 hours after administration of SOLOSEC.

Most common adverse reactions observed in clinical trials (incidence ≥2%) were vulvovaginal candidiasis, headache, nausea, dysgeusia, vomiting, diarrhea, abdominal pain, and vulvovaginal pruritus.

In patients with Cockayne syndrome, after initiation of systemic use of metronidazole, another nitroimidazole agent, cases of severe irreversible hepatotoxicity/acute liver failure (including cases of fatal outcomes) have been reported.
You are encouraged to report negative side effects of prescription drugs to the FDA. Visit www.fda.gov/medwatch, or call 1-800-FDA-1088. You may also contact Lupin Pharmaceuticals, Inc. at 1-844-SOLOSEC (1-844-765-6732).
Click here for full Prescribing Information.