Help patients save with SOLOSEC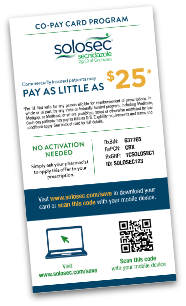 Commercially insured patients may pay as little as $25 for SOLOSEC*
*Per fill. Not valid for any person eligible for reimbursement of prescriptions, in whole or in part, by any state- or federally funded program, including Medicare, Medigap, or Medicaid, or where prohibited, taxed or otherwise restricted by law. Cash-pay patients may pay as little as $75. Eligibility requirements and terms and conditions apply. See below for full details.
Download co-pay cards now
Eligibility Requirements
Not valid for any person eligible for reimbursement of prescriptions, in whole or in part, by any state- or federally funded program. This includes Medicare, Medigap, Medicaid, TRICARE®, Veterans Affairs (VA) or Department of Defense (DoD) health coverage, Employer Group Waiver Plans, or where prohibited, taxed or otherwise restricted by law.

Must be a US resident.

Must be 18 years of age or older to redeem this offer for yourself or a minor.
Terms and Conditions:
Offer valid for up to 12 fills.

A commercially insured patient with plan coverage for SOLOSEC® may pay as little as $25.
Cash-pay patients are eligible to participate and may pay as little as $75. "Cash-pay patient" means an uninsured patient or a patient who has commercial insurance, but SOLOSEC® is not covered on the plan's formulary or has an NDC block, prior authorization, step edit or other restriction that has not been met. Medicare Part D enrollees who are in the prescription drug coverage gap ("donut hole") are not considered and are not eligible for this offer.

Patient out-of-pocket costs may vary. Patient is responsible for any remaining balance after offer is applied and applicable taxes, if any.

This co-pay card is not valid when the entire cost of a patient's prescription drug is eligible for reimbursement from a private insurance plan or other private health or pharmacy benefit programs.

Patient and pharmacy agree not to seek reimbursement for all or any part of the benefit received by the patient through this offer from any third-party payer and are each responsible for making any required reports of use of this offer to any third-party payer who pays any part of the prescription filled.

Valid only at participating pharmacies in the US.

No other purchase is necessary.

This card and offer are not health insurance.

The selling, purchasing, trading, or counterfeiting of this offer is prohibited by law. Void if reproduced.

Not valid with other offers. This offer has no cash value. No cash back.

Lupin Pharmaceuticals, Inc. reserves the right to amend, revoke or terminate this offer without notice.

By applying this offer, pharmacist is certifying that (i) the patient meets the eligibility criteria, (ii) you have not submitted and will not submit a claim for reimbursement under any state- or federally funded program for this prescription; and (iii) participation is not contrary to pharmacy agreements with third-party payers or laws or regulations applicable to pharmacies.
Patient and pharmacist understand and agree to comply with the eligibility requirements and terms and conditions of this offer as described above.
Indication
SOLOSEC® (secnidazole) 2 g oral granules is an antimicrobial agent indicated for the treatment of bacterial vaginosis in female patients 12 years of age and older and trichomoniasis in patients 12 years of age and older. Since trichomoniasis is a sexually transmitted disease, treat sexual partners of infected patients with the same dose and at the same time to prevent reinfection.
Dosage and Administration
SOLOSEC is a single-dose therapy for oral use. The entire contents of SOLOSEC packet should be sprinkled onto applesauce, yogurt or pudding and consumed once within 30 minutes without chewing or crunching the granules. SOLOSEC is not intended to be dissolved in any liquid. Avoid consumption of alcoholic beverages and preparations containing ethanol or propylene glycol during treatment with SOLOSEC and for at least 2 days after completing therapy.
Important Safety Information
SOLOSEC is contraindicated in patients with a history of hypersensitivity to secnidazole or other nitroimidazole derivatives and in patients with Cockayne syndrome.

Vulvovaginal candidiasis may develop with SOLOSEC and require treatment with an antifungal agent.

Potential risk of carcinogenicity is unknown and has not been studied in patients. Carcinogenicity has been seen in rodents chronically treated with nitroimidazole derivatives, which are structurally related to secnidazole. Chronic use should be avoided.

Breastfeeding is not recommended. Patients should discontinue breastfeeding for 96 hours after administration of SOLOSEC.

Most common adverse reactions observed in clinical trials (incidence ≥2%) were vulvovaginal candidiasis, headache, nausea, dysgeusia, vomiting, diarrhea, abdominal pain, and vulvovaginal pruritus.

In patients with Cockayne syndrome, after initiation of systemic use of metronidazole, another nitroimidazole agent, cases of severe irreversible hepatotoxicity/acute liver failure (including cases of fatal outcomes) have been reported.
You are encouraged to report negative side effects of prescription drugs to the FDA. Visit www.fda.gov/medwatch, or call 1-800-FDA-1088. You may also contact Lupin Pharmaceuticals, Inc. at 1-844-SOLOSEC (1-844-765-6732).
Click here for full Prescribing Information.